About Us
Program Description
Collaborative Action Team training for Community Health — Older adult Network (CATCH-ON)
Mission: The overarching mission of the CATCH-ON is to unify state-wide academic, health, and community organizations and resources to prepare a geriatric collaborative practice-ready health workforce optimizing health while serving and improving patient-centered health and wellness outcomes.
Learn more about all 44 Geriatric Workforce Enhancement Programs here.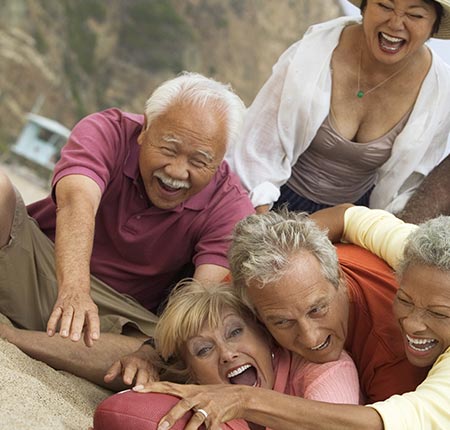 Objectives
Educate older adults, families, caregivers, direct care workers, health professions providers, students, residents, fellows, and faculty about person-centered, culturally competent management of multiple chronic conditions (MCC) among diverse older adults, especially those with cognitive decline, and Alzheimer's Disease and Related Dementias (ADRD). This includes development, validation, and dissemination of region-wide and state-wide co-learning programs regarding management of MCC/ADRD.
Transform existing primary care systems to meet the needs of older adults with MCC/ADRD by implementing evidence-based programs that utilize provider, patient and community resources. Critical innovations to achieve these aims include: interactive, universally accessible online modules regarding MCC/ADRD for all learners, regional and statewide Learning Communities, Health Ambassadors for community health, and including Health Ambassadors in creation of the new CATCH-ON primary care model.
Rush University Medical Center
Robyn Golden, LCSW, Director of Health and Aging, Rush University Medical Center

CATCH-ON Project Director

Erin Emery-Tiburcio, PhD, Associate Professor, Geriatric and Rehabilitation Psychology

CATCH-ON Co-Project Director

Michelle Newman, MPH, Coordinator of Interprofessional Program Development, Health and Aging
Sandra Swantek, MD, Medical Director, Geriatric Psychiatry
Laurin Mack, PhD, Assistant Professor, Behavioral Sciences
Stan Lapidos, MA, Associate Professor, Preventive Medicine
Joanne Miller, PhD, RN, Associate Professor, College of Nursing
Walter Rosenberg, MSW, Manager of Transitional Care, Health and Aging
Anne Millheiser, LCSW, Manager of Social Work Services, Health and Aging
Steven Rothschild, MD, Associate Professor of Family Medicine and Preventive Medicine
Magdalena Bednarczyk, MD, Physician, Rush University Senior Care
Carol Farran, DNSc, RN, FAAN, Professor, College of Nursing
Fawn Cothran, PhD, RN, GCNS-BC, Assistant Professor, College of Nursing
Raj C Shah, MD, Associate Professor, Family Medicine and Rush Alzheimer's Disease Center
Mary Zonsius, PhD, Assistant Professor, College of Nursing
CJE SeniorLife
Amy Eisenstein, PhD, Director of Research
University of Illinois at Chicago
Michael Koronkowski, PharmD, Clinical Assistant Professor, Pharmacy Practice
Cook County Health and Hospitals System
Kimberly Dixon, MD, Section Chief of Geriatric Medicine
Coalition of Limited English Speaking Elderly
Marta Pereyra, Executive Director
Northwestern University
Darby Morhardt, PhD, Research Associate Professor in Cognitive Neurology and Alzheimer's Disease Center (CNADC)
Rebecca Johnson, PhD, Research Assistant Professor in Medical Social Sciences
Health and Medicine Policy Research Group
Margie Schaps, MPH, Executive Director
Sharon Powell, MA, Director, Chicago AHEC Program
Howard Brown Health Center
Cecilia Hardacker, RN, MSN, Director, Geriatric Education
Continuing Education Institute of Illinois
Cynthia Germain, MBA, Executive Director
Southern Illinois University
Elaine Jurkowski, PhD, Professor, School of Social Work
Ruth Heitkamp, RN, MSPH, Project Coordinator
Sharon Smaga, MD, Assistant Director, Carbondale Family Practice
Greg Kyrouac, MSEd, Director of Education & Outreach Programs, Center for Alzheimer's Disease & Related Disorders, SIU Neurosciences Institute (NSI), SIU School of Medicine
Shawnee Health Service
Carol Aronson, BA, Director
Lawndale Christian Health Center
Emily Lupo, MPH, Population Health Manager
Bruce Miller, MHA, Chief Executive Officer
Adam Romeiser III, MD, Physician
Area Agencies on Aging
Sheila Greuel, MA, Consultant
Susan Real, Executive Director, East Central Illinois Area Agency on Aging
Alzheimer's Association, Greater Illinois Chapter
Melanie Chavin, MS, Chief Program Officer
Alternatives for the Older Adult
Julie Farmer, LCSW, Program Director
Illinois Academy of Family Physicians
Vincent Keenan, CAE, Executive Vice President
AgeOptions
Sarah Stein, AM, Manager of Community Programs
Community Partners
The CATCH-ON Coordinating Council is comprised of our core partners and is responsible for oversight and strategic direction of the program.
CATCH-ON National Advisory Board
The CATCH-ON National Advisory Board provides expert interprofessional guidance for all elements of the program.
Donald Jurivich, DO, University of North Dakota School of Medicine and Health Sciences (Chair)
Melinda Abrams, MS, Vice President, Delivery System Reform, Commonwealth Fund
John Beilenson, MA, President, Strategic Communications and Planning
Amy J. Berman, BS, RN, Senior Program Officer, The John A. Hartford Foundation
Susan Breakwell, DNP, APHN-BC, Clinical Associate Professor, Director, Institute for Palliative and End of Life Care, Marquette University
Lynn Feinberg, MSW, Senior Strategic Policy Advisor, AARP
Ellen Flaherty, APRN, MSN, PhD, Instructor in Medicine, Geisel School of Medicine, Dartmouth-Hitchcock Medical Center
Dolores Gallagher Thompson, PhD, ABPP, Professor of Research in the Department of Psychiatry and Behavioral Sciences at Stanford University School of Medicine, and Director of the Stanford Geriatric Education Center
James Galvin, MD, MPH, Professor, Department of Neurology, Professor, Department of Population Health, Professor, Department of Psychiatry, Clinical Director COE PBC Memory Evaluation & Treatment, Director of Clinical Operations Center of Excellence in Brain Aging, NYU Langone Medical Center
Lisa Renee Holderby-Fox, LSWA, Executive Director, Massachusetts Association of Community Health Workers
Kathleen Kelly, MPA, Executive Director, Family Caregiver Alliance and the National Center on Caregiving
Venise Lewis, BA, Vice President of PACE Education and Learning, National PACE Organization
David Lindeman, PhD, Director, Center for Technology and Aging
Marilyn Luptak, PhD, MSW, Associate Professor, Chair, Aging in Social Work Concentration, College Of Social Work, University of Utah
Sandy Markwood, MA, Chief Executive Officer, National Association of Area Agencies on Aging
Anna Ortigara, MSN, Organizational Change Consultant, Paraprofessional Healthcare Institute
Carol Regan, MPH, Senior Advisor, Community Cataylst
Charles Reynolds, MD, Director, Aging Institute of UPMC Senior Services and University of Pittsburgh
Pat Volland, MSW, MBA, Director, Social Work Leadership Institute
Febe Wallace, MD, Director, Cherokee Health Systems
Nancy Wilson, MA, LCSW, Huffington Center on Aging, Baylor College of Medicine
Amy York, BA, Executive Director, Eldercare Workforce Alliance
CATCH-ON Partner Organizations
Aging Care Connections (ACC): ACC is dedicated to improving the lives of older adults and their families, providing comprehensive services to adults in 5 suburban townships within Cook County. http://agingcareconnections.org/
Coalition of Limited English Speaking Elderly (CLESE): CLESE is committed to assuring that older people who are not fluent in English have access to the same programs and services as do English-speaking seniors.  http://clese.org/
Continuing Education Institute of Illinois (CEII): CEII is provides accessible, client driven, cost-effective, and performance measured educational and training services to professionals. http://www.continuingeducationpartner.com/
Cook County Health and Hospitals System (CCHHS): CCHHS is the safety net for health care in Chicago and suburban Cook County. The main hospital serves as the primary public provider of comprehensive medical services for the people of metropolitan Chicago. http://www.cookcountyhhs.org/
CJE SeniorLife: CJE SeniorLife enhances the lives of older adults and their families through a comprehensive network that includes housing, health care, community services, health and wellness education, life enrichment programs and applied research. http://www.cje.net/professionals/leonard-schanfield-research-institute
Health and Medicine Research Policy Group (HMPRG): HMPRG is a policy center that conducts research, educates and collaborates with other groups to advocate for policies and impact health systems to improve health status. HMPRG will develop educational materials with the UIC School of Public Health to infuse into the existing pipeline programs. http://hmprg.org/
Illinois Academy of Family Physicians (IAFP): The IAFP is a 4,700-member professional medical society dedicated to maintaining high standards of family practice in medicine and surgery. http://www.iafp.com/
Illinois Alzheimer's Association: The association serves the more than a half million Illinois residents affected by Alzheimer's disease in their chapter area, including 210,000 people with the disease. http://www.alz.org/illinois/
Illinois Association of Community Care Program Home Care Providers (IACCPHP): IACCPHP works in conjunction with IDOA and other aging network associations to improve CCP services and to enhance other community-based services for older adults. http://www.idoahomecare.org/
Illinois Association of Medicaid Health Plans: The association is committed to advocating for a smooth transition to care coordination that respects the needs of patients and providers. http://iamhp.org/
Illinois Coalition on Mental Health and Aging (ICMHA): ICMHA is a statewide organization representing professionals and consumers who advocate to influence mental health policy that promotes effective treatment and recovery in older adults through collaboration, training and education. http://ilcmha.org/
Illinois Community Health and Aging Collaborative: The collaborative serves to improve the health of adults across the lifespan – with special emphasis on older adults and adults with disabilities through the dissemination of community-driven evidence-based interventions.
Illinois Cognitive Resources Network (ICRN): The ICRN convenes leaders from the three university Alzheimer's Disease Assistance Centers (Rush, Northwestern and Southern Illinois), as well as the members from the Alzheimer's Association Greater Illinois Chapter, Aging and Disability Resource Center; and Illinois Public Health Association. http://ilbrainhealth.org/
Illinois Council of Care Coordination Units (ICCCU): The ICCCU is a statewide association that provides quality Care Coordination and Protective Services through advocacy, collaboration and education. http://www.councilofcarecoordination.org/
Illinois Department on Aging (IDOA): The mission of the IDOA is to serve and advocate for older Illinoisans and their caregivers by administering quality and culturally appropriate programs promoting partnerships and encouraging independence, dignity, and quality of life. http://www.illinois.gov/aging/Pages/default.aspx
Illinois Department of Public Health (IDPH): The mission of the IDPH is to protect the health and wellness of the people in Illinois through the prevention, health promotion regulation, and the control of disease and injury. http://www.dph.illinois.gov/
Illinois Geriatric Society (IGS): IGS is a section of the American Geriatrics Society, an organization devoted to improving the health, independence and quality of life of all older people. http://www.americangeriatrics.org/ags_state_affiliates/current_state_affiliates/illinois/
Illinois National Association of Social Workers (IL NASW): The IL NASW is a professional organization of social workers in the United States. http://www.naswil.org/
Illinois Primary Health Care Association (IPHCA):  The IPHCA is a nonprofit trade association of community health centers that serves as Illinois' sole primary care association.  https://www.iphca.org/
Loyola University Chicago's School of Social Work (LUCSSW): LUCSSW educates students to become leaders through curricula in clinical, organizational, community, and social justice. http://www.luc.edu/socialwork/
Northwestern University Buehler Center on Aging, Health & Society: The mission of the Buehler Center is to improve the quality of life and quality of care for older adults, the terminally ill, and other vulnerable populations through education and research. http://www.feinberg.northwestern.edu/sites/aging/
Northwestern University Division of Internal Medicine and Geriatrics: The Division strives to achieve visionary healthcare through clinical practice and innovative education and research programs. http://www.medicine.northwestern.edu/divisions/general-internal-medicine-and-geriatrics/
Paraprofessional Healthcare Institute (PHI): PHI is a non-profit organization that works to improve long-term services and supports for elders and individuals with disabilities, as well as improve the job quality of the direct-care workers who provide those services whether in people's homes or in nursing homes and other institutional facilities. http://phinational.org/
Telligen: Telligen is Illinois' Quality Improvement Organization. http://www.telligen.com/
University of Illinois at Chicago: Partners include the College of Pharmacy (https://pharmacy.uic.edu/), Department of Disability and Human Development (http://www.ahs.uic.edu/dhd/), and School of Public Health (http://publichealth.uic.edu/).