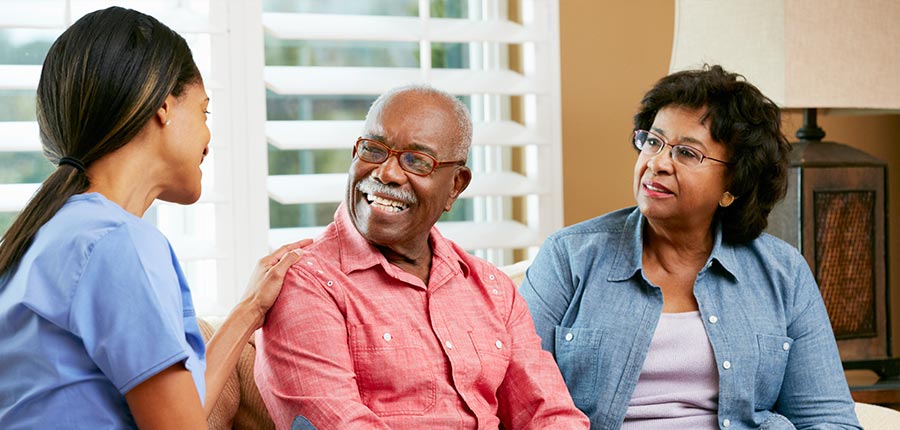 CATCH-ON Community Health
Program Description
Background
The intention of CATCH-ON Community Health is to bring together the key elements from evidence-based programs for managing multiple chronic conditions and ADRD among older adults in and around primary care. There are four components of the program: screening/risk stratification, assessment, care planning/ intervention, and self-management. Ideally, clinics would implement all elements of every level to best meet the needs of their older adult patients. Because clinics will have varying resources available (staff, time, space, electronic medical record accessibility), however, not every element will be possible initially but may build over time. Thus, CATCH-ON Community Health is a customizable program to meet the needs of each clinic with the resources available.
Every member of the clinic staff will be strongly encouraged to complete the CATCH-ON online modules that provide background for working in teams with older adults with multiple chronic conditions and their care partners. Staff will also be encouraged to join CATCH-ON Learning Communities, phone/video conference monthly meetings to discuss application of key elements of the online modules in each clinic.
Process
The process of the CATCH-ON consultation mirrors our BRIGHTEN program in assessment, team recommendations, collaborative development of a clinic/community-centered implementation plan, and implementation support to enact the plan.
Readiness Assessment. The CATCH-ON consultation team will work with each partner clinic to assess the resources they have, their clinic priorities, and readiness for change. The first step of this assessment is for the clinic to complete a Readiness Assessment Instrument. The instrument includes online surveys for staff, leadership, and administration. The CATCH-ON consultation team with then have an in-person or video conference meeting with team leadership to follow up on results and clarify needs and resources.
Recommendations. The CATCH-ON team will then analyze survey responses and make recommendations about which elements to implement first, and over time. These recommendations will be discussed in meetings with clinic representatives to develop a collaborative implementation plan and timeline that all agree is desirable and doable.
Implementation support. Clinics will receive training from the CATCH-ON consultation team in elements of the plan that they are not familiar with. Connections to community agencies that are not already in place will also be made. The CATCH-ON consultation team will set periodic meetings (frequency determined by need) with clinic staff to address barriers to implementation, assure that the plan gets carried out as smoothly as possible, and engage in problem-solving to make changes to the plan as needed.
Outcomes. The CATCH-ON team, in collaboration with clinic staff, will measure clinic-level and patient-level outcomes of the new program. Some data will be collected from Medicare databases, some by clinic staff (time burden will be minimal), and some by the CATCH-ON Evaluation Team.
Resources for Partner Clinics
Managing Older Patients with Cognitive Impairment: A Guide for Primary Care Providers
Now What? Next Steps After a Diagnosis of Alzheimer's Disease or Other Dementias
Assessing Cognitive Impairment in Older Patients: A Guide for Primary Care Physicians
Base Program Information
The following programs are the foundation of the CATCH-ON Community Health model.
BRIGHTEN

BRIGHTEN is a screening, assessment, and treatment model that employs a virtual team which is vital for clinics without specialists available on site or in neighboring communities (Emery, et al, 2012). An NIH-funded randomized controlled trial of BRIGHTEN for low socioeconomic status minority older adults with depression and cardiometabolic syndrome (N=250) found that participants had significant decreases in depression, blood pressure, waist circumference, and high density lipids at six months (Emery et al., manuscript in progress).

Bridge

Bridge offers necessary tools and skills for adherence to patient-centered discharge treatment plans. It includes in-person assessment during hospitalization for older adults with MCC and telephone follow up for coordination with both patient and family caregivers. Bridge participants (n=1546) were 20% less likely to have a 30 day re-admission than comparable patients who did not receive the Bridge intervention (n=5378), regardless of whether they were discharged home with or without home health (Boutwell et al., manuscript under review). Learn more HERE.

AIMS

AIMS recognizes the non-medical elements of MCC and employs social workers to conduct a comprehensive biopsychosocial assessment, develop a patient-centered treatment plan, provide intensive case management and support for self-management until services are no longer needed. AIMS participants (N=640) had fewer 30-day readmissions, ED visits, and hospitalizations at 6 months compared to the general RUMC population and national statistics for older persons. Patients, caregivers, and providers were highly satisfied with the program and felt that it let them more fully engage in their healthcare role (Rizzo et al., manuscript in preparation).

ACT

ACT is a newly developed population health management model based on Wagner's Chronic Care Model (Wagner et al., 2001) that assesses and stratifies patients into quadrants based on complexity of MCC/ADRD patient needs, including social determinants of health. Quadrants correspond to distinct teams of professionals with varying discipline leadership to best manage needs. The primary team leader conducts intensive assessment and develops a care plan with the patient, maximizing self-management. Community Health Workers (CHWs) assess home-based issues, coach health behavior, and advocate for patients. While all elements of this program are evidence-based, ACT has not yet been evaluated for outcomes as a complete program.

Risk Stratification

The purpose of risk stratification is to make an initial determination regarding complexity of health problems and contextual issues (social determinants of health and psychosocial issues) that drive the amount and type of care and coordination for primary care patients with multiple chronic conditions. This may include coordinating referrals, monitoring self-care activities, and providing education and follow-up. Risk stratification measures are designed to: 1. systematically identify medical, psychosocial and functional issues that contribute to patient complexity; and 2. place patients into complexity quadrants which determine emphasis and intensity of team resources. Stratifying patients in this way helps to identify the team members who need to be involved and assure that the appropriate nature and level of care is provided.

Read more about risk stratification here: http://www.aafp.org/practice-management/transformation/pcmh/advanced/rscm.html

Self-Management Programs

Managing one's own health behaviors (diet, physical activity, medication management, communication with health providers, etc) is critical to effective care for multiple chronic conditions. There are several established programs to help older adults learn how to self-manage conditions and improve their overall health.

Chronic Disease Self-Management (CDSMP)

Chronic Disease Self-Management (CDSMP) is a six-session course that empowers older adults to take charge of their health, manage chronic illnesses and disabilities, live well and well, and controls health care costs. For more information, please visit http://patienteducation.stanford.edu/programs/cdsmp.html.

Diabetes Self-Management Program (DSMP)

Diabetes Self-Management Program (DSMP) empowers older adults to take charge of their health, manage chronic illnesses and disabilities, live well and well, and controls health care costs in 6 sessions. DSMP is specially designed to empower persons to manage type 2 diabetes. For more information, please visit http://patienteducation.stanford.edu/programs/diabeteseng.html.

Powerful Tools for Caregivers

Powerful Tools for Caregivers is a 6-week nationally-known, evidence-based curriculum for persons who care for older adults. It uses a train-the-trainer method of dissemination and has been shown to improve self-care behaviors, management of emotions, self-efficacy, and use of community resources. For more information, please visit https://www.powerfultoolsforcaregivers.org/.

Matter of Balance

A Matter of Balance is an 8-week structured group intervention that emphasizes practical strategies to reduce fear of falling and increase activity levels. Participants learn to view falls and fear of falling as controllable, set realistic goals to increase activity, change their environment to reduce fall risk factors, and exercise to increase strength and balance. Learn more about the program here: http://www.mainehealth.org/mob.

Caregiver Skill Building Intervention

Caregiver Skill Building Intervention (CSBI) is a nurse-led, research-based program that provides education to address family caregiver skill-building and increase caregivers' physical activity. The interventions initially were delivered in a group setting where caregivers benefited by learning skills in a supportive group environment. To accommodate stressed and sedentary caregivers' individual needs, the program now provides a multi-component, individualized home-based online intervention that addresses a combination of needs. For more information, contact Carol Farran, Carol_J_Farran@rush.edu
Learning Communities
Further supporting the educational module application, professionals who have completed the online modules can participate in Learning Communities. Learning Communities are monthly case consultation discussions via HIPAA-compliant video conference meetings and/or internet-based secured chat rooms. Each meeting will begin with a very brief presentation by the facilitator on a topic related to managing MCC in older adults. The remainder of the time will be for discussion of challenging cases or issues and consultation with an expert interdisciplinary team.
Quote from a Nurse Practitioner at Cherokee Health System:
Even though it may seem inconvenient to stop the work flow to attend the CATCH-ON groups it has been worth it. Topics have always been applicable to practice. More so relevant to current trends with problem solving for patient cases.
For example, learning about fall prevention, medication de-prescribing, visits surrounding advance directives have been easy to apply to practice.
I'm looking forward to new topics and this continued learning opportunity.
For more information about

Learning Communities

, please

click here

.